Fettercairn Sculpture. home to
A new sculpture commission to commemorate the planting of Fettercairn's new Oak Forest.
To be installed and unveiled this Autumn at Fettercairn Distillery.
Hope in Hamilton
Art Thou – Polimoda, Florence, Italy
Polimoda opened the 100th edition of Pitti Uomo presented in one of the most famous squares in Florence. On the 29th of June 2021, the historical Piazza Santa Maria Novella was transformed into an incredible fashion show for the world renowned fashion school's graduates. Rob was invited to create an intimate sculpture installation in the centre of the Piazza. The eight mirrored figures reflected the world famous Basilica and the stunning Renaissance architecture, an interplay with space and light.
Following the show, Polimoda offered Rob's installation to the city for the duration of Pitti Uomo, allowing Florentines and visitors from all over the world to enjoy the environmental artwork.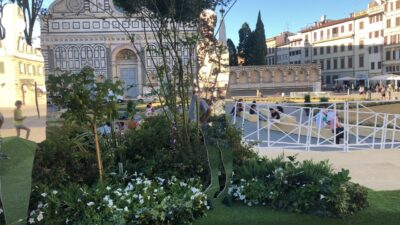 Bird Sphere, Amble Sculpture Trail
Bird Sphere