Arcadia Sculpture Centre is Rob's new creative home.
In late 2018 Rob and his wife and business partner Susan fulfilled a long-held dream by finding suitable premises from where they could establish a centre of excellence for Sculpture and Environmental Arts in Scotland. After a search lasting over 3 years, they succeeded in purchasing Drumbeg Farm, a former livery stable set within 21 acres of woodland and pasture in the Loch Lomond and Trossachs National Park.
In their first year of ownership Rob and Susan have transformed a large barn from stables to studio spaces and have begun the long process of restoring neglected woodlands to improve their biodiversity and enhance this haven for flora and fauna. By following the principles of wildlife friendly gardening, they hope to create a sustainable haven for wildlife and to encourage new species to take up residence.
At the heart of everything Rob and Susan do at Arcadia is a belief in the benefit that a thriving, wildlife rich environment has on people's physical and mental wellbeing.
They have designed and created two unique and luxurious Glamping Cabins. Elysium and Halcyon are available to rent throughout the year to people wishing to get away from the hustle and bustle of everyday life and to enjoy a truly remarkable and memorable experience.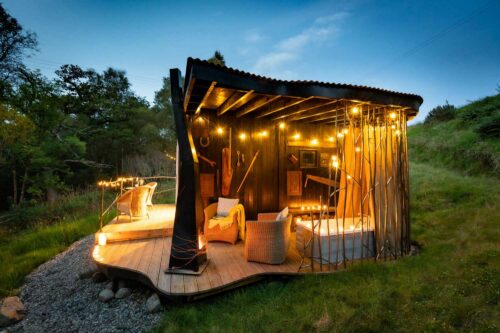 You can visit our dedicated website for more information on the cabins at www.arcadiaglamping.co.uk
The next chapter in this story is to commence work on the Sculpture Trail, which will eventually encompass all 21 acres of land. The landscape will provide a backdrop to contemplative but inspirational artworks; every piece carefully selected to work in harmony with its surroundings. The overriding theme at Arcadia is the symbiotic relationship between art, nature, and people. Selecting and siting artwork to place around the trail will be an evolving process over the coming months and years.
Rob and Susan's long-term ambition is to create a centre of excellence for Sculpture and Environmental Arts and to offer funded Artist Residencies to both British and International artists. The centre will develop a varied programme of Sculpture Workshops to members of the public who are interested in developing their creative output and learning new skills. Rob and Susan's intention is to create a place of learning and creative inspiration to share with others which will include a facility for students of environmental art the opportunity to create and develop their creative practice both in the studio space and in the outdoor natural spaces at Arcadia.
Rob and Susan hope to continue the development and exploration of environmental art in Scotland which they hope will inspire a greater understanding and appreciation of outdoor artwork for future generations.