Death in Hikkaduwa was conceived during the first weeks of my art residency in Hikkaduwa, an enclave populated with sun kissed surfers and tourists escaping the winter weather to enjoy the warm and sunny climate of Sri Lanka.  It struck me how different this tourist town was – with its night clubs and trendy cafes – to the small working towns and villages only a few kilometres away. It felt as if we were contained within an invisible bubble.
I wanted to find a way to express this perceived divide and consider how even today Sri Lanka is being economically invaded and controlled by foreigners. Have the Chinese replaced the British?  They have certainly invested vast amounts into every aspect of business on the island and now control the port of Hambantota. Like the British in the 19th century they understand the power of commerce.
As I developed friendships and trust with several local people it became apparent that all was not well in paradise.  Sri Lanka is massively expensive compared to other Asian countries and people are really struggling to cope with the ever rising prices and taxes. Dr Ameer Ali writing in the Colombo Telegraph states 'Nothing moves upwards or downwards through public administration without bribing someone to get something done.'
I asked myself a difficult question. By being in Hikkaduwa, economically privileged and Western, was I also contributing to Post-colonialism in Sri Lanka?  After all, my forbearers contributed greatly to the political de-stabilisation of Sri Lanka through their British colonial policy of divide and rule which left a legacy of unrest between Sinhalese and Tamils.  By positioning a disproportionate number of minority Tamils in every aspect of government they created resentment within the Sinhalese majority which finally led to anti-Tamil measures and the war.
My thoughts were further focused as I witnessed first-hand the aftermath of the civil unrest in Sri Lanka's second city Kandy. I was travelling back to the city one evening on the day in which riots had taken place between the Buddhist and Muslim communities. We were stopped in our tourist car at a heavily armed checkpoint. I was asked by the solider where we were going as the city was locked down and under curfew. I asked 'Is there trouble here?' He answered quite chillingly, 'No trouble in Sri Lanka.' He had obviously been well tutored in the government's propaganda.
The town of Hikkaduwa, like many of the tourist enclaves of Sri Lanka, bears little resemblance to the rural and urban reality of the country.  I had a distant memory of the storyline of 'Death in Venice' directed by Luchino Visconti in 1971, in which the authorities keep the tourists on the Lido of Venice and cover up the fact that the city is gripped by a major epidemic of Cholera, afraid that the tourists would leave if they knew the true reality. I started to think of the parallels between Hikkaduwa beach and Venice Lido.  The film provided the perfect platform from which I could create a satirical performance reflecting the situation I found myself in as a Westerner here in Hikkaduwa.
I started developing my artistic concept; to represent a colonial gentleman from the past, so absurdly arrogant and privileged that he floats above the waves. He sits sipping tea, served by his man servant, totally oblivious to the modern day surfers and tourists absorbing paradise and acting out their own fictional roles, with perfectly honed six packs and all over tans. Every detail for my performance was carefully considered; from the construction of a levitating seat, to the purchase of props and the commission of a period suit made by a local tailor. I was fortunate to have the collaboration of two of my fellow artists on the residency, namely Damian Wright who performed brilliantly as the gentleman's servant and Tim X Atack who created a wonderful adaptation of the film's music score by Gustav Mahler which played during my 90 minute performance.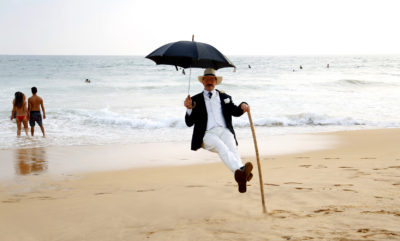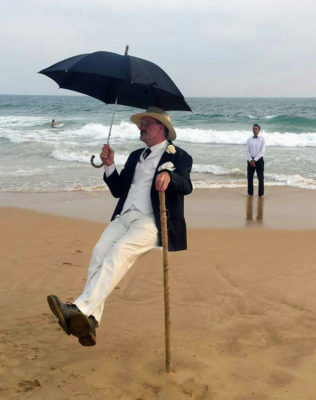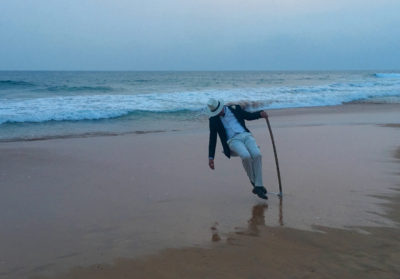 This classic 1971 Italian-French film: 'Morte  a Venezia' directed by Luchino Visconti and starring Dirk Bogarde  was based on the 1912 book 'Der Tod in Venedig' by German author Thomas Mann. It tells the story of a German writer [ book] Aschenbach  and composer [ film ] who travels to Venice to  escape artistic stress. Despite finding out about the Cholera epidemic he decides to stay as he is captivated by 'Tadzio' a Polish youth staying at the hotel.