I have now been in beautiful Sri Lanka for four days and have settled down into a good balance between developing my work and taking time to relax and absorb this amazing place. Perhaps allowing myself this rare time to reflect and explore new ideas is the very reason for being here!
I am on this residency with some fantastic artists who have all shared their art practises with their inspiring slide shows. I'll come back to each of them as the weeks progress and point you to their websites. It has been such a bonus to sit and chat about each others experiences; although we are all very different it has been interesting to see how some of our thought processes and methods cross over. As our collective ideas blossom there's an infectious buzz of excitement! I'm looking forward to collaborating with them in the last two weeks of the residency.
Siripala Nalinda, a traditional wood carver in the area, introduced me to his son in law Nalin who has his carving business in Hikkaduwa. I am pleased to say Nalin has agreed to help me carve replicas of found rubbish washed up on the beach. At first he was rather taken back! Can't say I blame him, odd Scottish fellow asking a skilled craftsman to make a copy of rubbish found on the beach. Fortunately after spending some time together we are forging ahead with the collaboration and I think he is now embracing the idea, which is exactly what I had hoped for with this particular project. It is really important for me that they also gain new skills and understanding from this project.
I want to give these throwaway objects a new value by intricately carving each one. Spending days creating them celebrates their design and redefines their purpose and aesthetic value. I am interested in how as a society we differentiate between objects and materials, some thrown away and others cherished and protected. Hopefully this idea will not only reflect the intrinsic beauty of these objects, but also question why we discard such interesting objects, often to the detriment of the natural environment, particularly the ocean and its marine wildlife.
I hope to make ten different carvings of varied sizes and shapes, these will then be exhibited in a gallery space at the end of the residency.

Siripala Nalinda in his workshop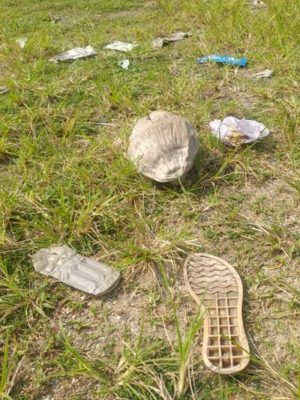 Found objects from the beach front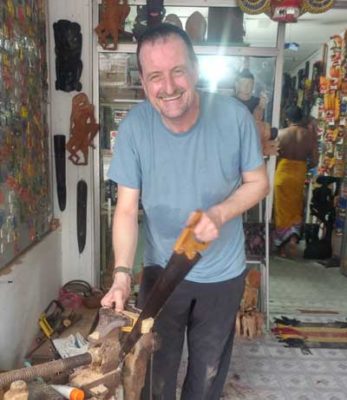 Starting work in Nalin's workshop in Hikkaduwa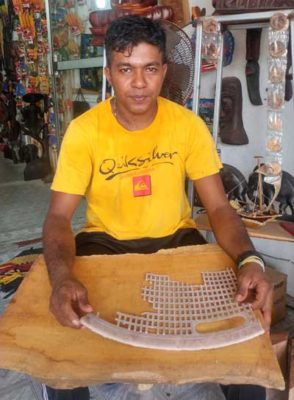 First challenge for Nalin